News
triOS College Launches Registered Massage Therapy Program at Brampton Campus
July 12th, 2021 / By triOS College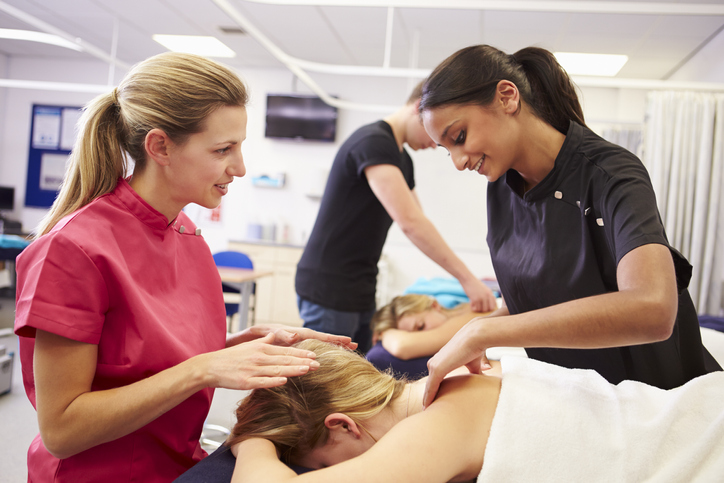 Brampton, ON
Today, triOS College is meeting the increasing demand for Massage Therapists with the launch of its Massage Therapy Diploma program at their Brampton campus. In the last 10 years alone the demand for Registered Massage Therapists (RMTs) in Canada has increased by 20% (Fraser Institute, 2016). Now, with the added stressors brought on by the global pandemic and North America's increased focus on mental health and self-care, the need for qualified Massage Therapists continues to grow. The program includes in-class learning that focuses on the anatomy of the human body, how to conduct clinical assessment, remedial exercises, and massage techniques. Combined with 440 hours of clinical experience under the supervision of a qualified Massage Therapy instructor, graduates of the program are ready to start their careers in this exciting and rewarding healthcare field.
The Massage Therapy program was previously offered in 6 triOS campuses across Ontario, including Mississauga, Toronto, Hamilton, London, Kitchener, and Windsor. The program has received preliminary accreditation from the Canadian Massage Therapy Council for Accreditation (CMTCA) in these campuses and triOS is committed to working toward full accreditation of its program. Students and graduates of the Massage Therapy program at the Brampton campus will also benefit from scholarships and loan repayment assistance made available through triOS' partnership with Massage Addict, a key industry employer.
"The popularity of massage therapy continues to rise and adding the Massage Therapy program to our Brampton location will ensure that we are keeping up with industry demand for RMTs. We're excited to be offering this program at our Brampton campus and excited to be strengthening our partnership with Massage Addict by extending scholarships and loan repayment assistance to our students."  Said Stuart Bentley, President of triOS College.
RMTs use massage therapy to promote physical and psychological well-being by relieving pain, physical dysfunction, and other stressors. Healthcare facilities such as physiotherapy, health spas, long-term care facilities, multi-disciplinary clinics, as well as private practices are where aspiring Massage Therapists can expect to find work in this rewarding field. The program is 88 weeks and includes 440 practicum hours to ensure students develop the practical application of their skills. triOS College is now enrolling for January 2022 starts at the Brampton campus, financial assistance may be available for those who qualify. Learn more about the Massage Therapy Diploma program here: https://www.trios.com/programs-courses/healthcare/massage-therapy/
About triOS College
The mission of triOS College Business Technology Healthcare Inc. is to help students become job-ready graduates. triOS College is a private career college with 8 campuses across Ontario focused on providing practical hands-on training that students need to be successful in their chosen careers.
triOS College offers a wide variety of programs that are highly relevant in today's job market within Business, Technology, Healthcare, Law, and Supply Chain. The program curriculum is extremely comprehensive and is uniquely developed with input from industry leaders to provide the highest quality education.
Canadian-owned and operated, triOS College is proud to be recognized as one of Canada's Best Managed Companies for eleven years in a row. triOS has been awarded the Platinum designation for redefining post-secondary education by listening to students and employer needs to deliver effective results. Since its inception in 1992, triOS College has prepared over 40,000 job-ready graduates for rewarding careers.
For further information, please feel welcome to contact: Communication Specialist, 905.814.7212 x1037 or communications@trios.com