CSW Vs. PSW: What's the Difference?
October 27th, 2021 / By triOS College
If you're someone who is interested in the human services field you've probably considered a number of career paths. You want to make changes in the lives of others, but which path is right for you? When you're someone who is a natural helper, it can sometimes be difficult to choose an area of focus in your career. A great way to help and to work with different individuals is to take up a career with an emphasis on personal care. Typically, when we think about care, our minds go to job positions like doctors and nurses, however, that is only one aspect of the care field. There are many ways to affect changes in the lives of others, therefore your decision needs to be one based on your preferences and the type of work you enjoy. You can make a great impact on an individual's life by working with them directly in positions like a Community Services Worker (CSW) or a Personal Support Worker (PSW).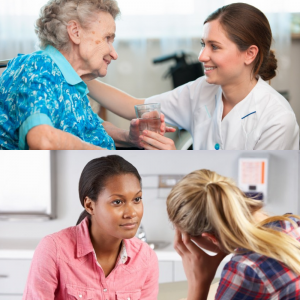 What is a CSW?
A CSW is an abbreviation for Community Services Worker. According to Canada's Job Bank, these human service professionals work to administer and implement a variety of social assistance programs and community services and assist clients to deal with personal and social issues affecting their lives. CSWs usually work with a caseload of a few clients to help them find the services they need in the community such as newcomer support, financial support, job programs, family intervention and, more. 
It's important to be even-tempered and remain positive as sometimes the role can be challenging. You will work with a variety of individuals to try and help them make improvements in their lives. Your clients can range from a newcomer trying to find employment to an individual looking to find help battling an addiction. CSWs can work for a government agency, group home, schoolboard, prison or other organization.
 
What is a PSW?
A Personal Support Workers or PSWs provides care to any person who requires personal assistance with the activities of everyday living. They may also provide additional care as delegated by a registered healthcare practitioner as needed and when it can be performed safely and within Provincial legislation. PSW's provide personal care and related paraprofessional services in accordance with an established plan of care.  
Personal Support Workers can form a deep bond with their clients as they usually operate in living spaces such as the client's home, hospitals, long-term care homes, or other related residential facilities. As one of your client's primary caregivers you will have to assist with medication (in accordance with provincial law), keep the client's living area tidy, and household chores as required. 
How Can You Decide?
If you're still trying to figure out which direction is best for you, seek resources to help you choose. You can do your own research by doing a search online where you can learn more about each respective profession. To take things a step further you can reach out to some companies that you find interesting and call them for an informational interview. This type of interview consists of an informal conversation with someone working in a field of interest to you. The goal of an informational interview is to ask all your desired questions about the field and job so that you can make an informed decision. 
It may seem strange to reach out to someone you don't know, but most people don't mind speaking about their careers. As long as you are polite and respectful in your outreach communications, you should not have a problem finding someone to speak to. LinkedIn is a great resource to find active professionals in the field. You can also find the answers you're looking for by reaching out to the professional association of your field of interest. The purpose of a professional association is to advance a particular profession, support the interests of people working in that profession and serve the good of the community. These bodies are a great resource for information.  
How Do I Get Started?
As with most careers, you must complete an education program to be considered for a job position. Both a career as a Personal Support Worker or a Community Services Worker requires a certificate of completion from a formal educational institution such as an accredited college. 
triOS College offers programs for both PSW and CSW. The PSW program is 31 weeks and allows students the ability to participate in a 12-week internship. The CSW program is 47 weeks with an 8-week internship component. As a triOS College student, you will benefit from half-day classes and a modular learning model where you study one subject at a time. triOS ensures quality by hiring Instructors and program staff who have worked in or are currently active in the field. If you have any questions about triOS College programs or the admissions process don't hesitate to contact us.
 
Click to learn more about the Personal Support Worker or the Community Service Worker Programs at trOS!