Meet Your Instructors – John Paul Rodrigues
January 27th, 2023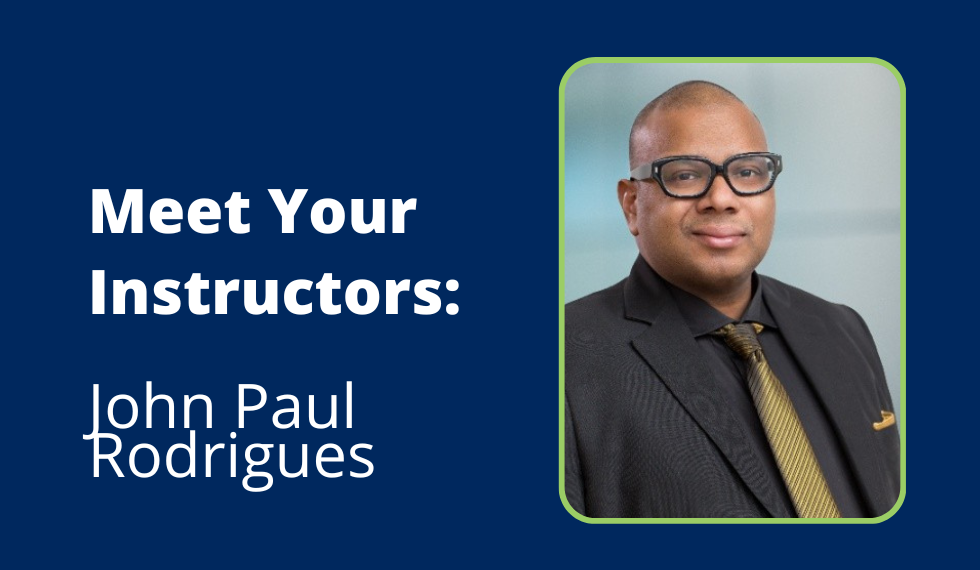 With a law degree, experience in the legal field, and teaching experience abroad John-Paul Rodrigues brings a wealth of knowledge to students in the Paralegal program at triOS. While he still practices law, his main focus since 2015 has been helping train and inspire the next generation of paralegals in Ontario. In the classroom, John-Paul frequently brings in guest speakers so that students can better understand the practical applications of the theories and concepts they study.
Throughout his time as an instructor at triOS, he has won numerous teaching awards in recognition of his dedication to the success of his students. He finds his most rewarding moments come when he can see the success of his students, whether it is by passing a licensing exam, understanding a complex legal topic, or securing a meaningful and rewarding career.
"There is nothing more fulfilling for an instructor than when a former student turned successful paralegal, returns to share with current students their journey to success. Students are so encouraged by the visualization of seeing someone who literally was sitting in their desk a year or two earlier and they are motivated to think they can do it too."
John-Paul notes that the demand for paralegals will continue to grow, as there will always be a need for affordable legal services. As affordability becomes a concern, more people will turn to paralegals as they can assist clients with a wide range of legal matters. This is especially true in Ontario, where a paralegal can have legal clients without being a licensed lawyer, and routine legal matters often fall within a paralegals scope of practice. He also notes the possible expansion of the scope of practice of paralegals, allowing them to assist clients in areas of immigration and family law, and further making them a sought after provider of legal services.
"Perhaps it's the effect of popular shows like Suits, but even my lawyer colleagues are surprised to find out licensed paralegals in Ontario are not only admin support, but how much is permitted in their scope of practice. For example, in areas such as Small Claims Court and various tribunals, there is no distinction between hiring a paralegal and a lawyer, in terms of the representation paralegals can provide, and often at much more affordable prices in support of access to justice."