triOS Video Game Art Student Shares Story
August 8th, 2022
Hamid, a triOS College student studying Video Game Art, recently shared what sparked his interest in video game art, his long-term career goals, and his thoughts on the program. Hamid has a background in graphic design and in architecture, and was excited to move into the gaming industry. During his time at triOS, he has taken courses taught by instructors with industry experience that are designed to prepare him for a career in Video Game Art. With the knowledge and skills he gained in the classroom, and the strong portfolio he built for himself through completing in-class projects, Hamid landed himself an internship at Behaviour Interactive.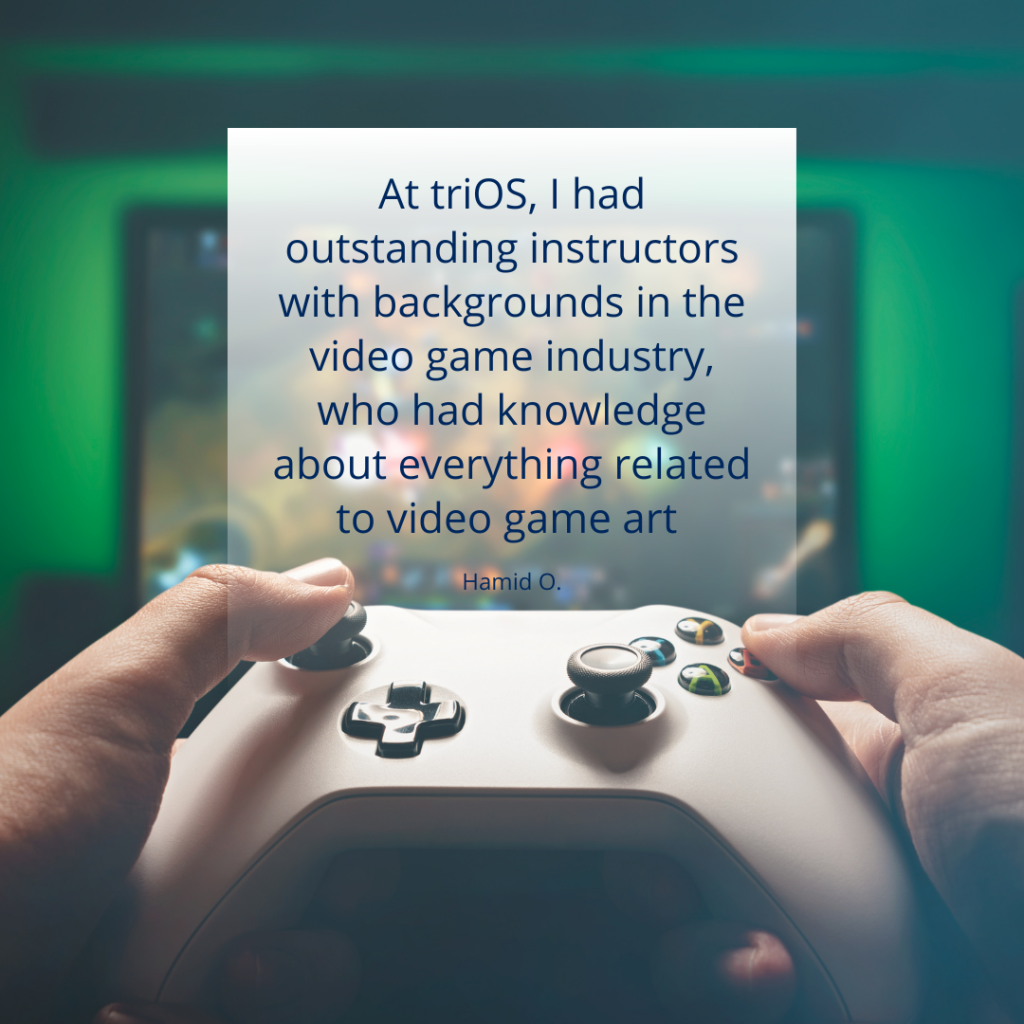 What sparked your interest in video game art?
My interest in computer games started when I was 9 years old and I got my first computer, a Commodore 64.
Every time I played games I always was wondered how a game was made. Most of the time, instead of playing game, I would walk through the environment and look at the models and textures that were made.
When I got my Graphic Design diploma, I learned more about software and got more familiar with 3D software.
Working with photos and 2D software was not enough for me, therefore, I went back to school and received a Bachelor of Architecture degree and continued working as 3D Architect Visualizer.
While I enjoyed making 3d models and scenes, something was still missing to create incredible 3D models. That was when I decided to continue my education and upgrade my knowledge as a game artist.
When you were looking to study video game art, what set the program at triOS apart from others?
For students like me who like Video Game Art and would like to choose it as a career, the first thing that comes to mind is whether a diploma or bachelor's degree makes more sense to become a game artist.
Besides the certificate, the duration of program is another thing that I considered.
I spent a lot of time researching different courses and certifications from many colleges and universities in Ontario and Vancouver. The thing that sets triOS apart from others is that they offer a Diploma in Video Game Art in 17-19 months and an internship after the completion of the course.
This is something that not all colleges or universities have and it is important to make sure that after finishing college the student goes directly to a company with an internship, which can be a good opportunity to take advantage of.
What do you think makes the program at triOS unique?
There are so many reasons that the program at triOS is unique, beginning with the kind and respectful staff.
As everyone knows, when we want to learn new subject we are looking for a good instructor that can make concepts easier to understand and who can help us learn. At triOS, I had outstanding instructors with backgrounds in the Video Game industry, who all had knowledge about everything related to Video Game art. My instructors used their knowledge to teach everything in a simple and comprehensible way.
What are your long-term career goals? Do you feel that the program and the instructors at triOS have put you on a path to achieve your goals? How/why?
My immediate career goal is to become a senior artist. This means that I need to gain enough experience in the video game industry, which is 5-10 years working with very experienced colleagues. Owning your own business is the dream of anyone but you need to be an expert and have knowledge about business. Fortunately, at tiOS, one of the courses is the art of video games, planning, and career preparation. In that course, I learned various topics, from how to search for a suitable company based on my job, to preparing a good resume and even how to prepare for an interview. After completing the course, I was so prepared and was confident enough to look for jobs and interview with companies.
What would you tell a prospective student who is interested in studying video game art at triOS?
Once students start studying at triOS, the college provides everything they need for their courses. The instructors teach everything to the student, but on the other hand, students must adhere to their obligations as a student. This includes attending class regularly, being a good listening, and always practicing your craft. It's important to try to keep yourself updated and try to learn more about what they like to learn along with their teacher.
Due to the time compression of the entire courses and the variety of subjects, you sometimes won't have enough time to complete each reading. This is why it's important to plan your time because it's your responsibility to review the lesson before and after class to prepare.
What do you most enjoy about your internship at Behaviour Interactive?
There are many interesting topics about my internship at Behaviour Interactive.
From my first day, everyone has been very kind and welcoming. It's more like a group of friends who get together and work on a project, and I've never felt like a stranger here. Whenever I ask for help, every is very helpful to me and they explain everything to me like a teach would to a student.
Although I haven't had a chance to meet everyone in person due to the company being located in Montreal, every time I'm online I feel like I'm working close to them. I'm sure one of the reasons they won a Great Place to Work Award in 2022 is because of the great feeling they give to me and over 1000 other employees, and I'm very proud and appreciative that they gave me the opportunity to be part of their team.
Do you feel that triOS has prepared you with the skills you need to do well during your internship?
Absolutely. I learned everything at triOS and became prepared before starting my internship.
The courses are very complete and besides teaching, the main focus is to improve each skills. For example, in Video Game Art, I learn basic to advanced sketching, human anatomy, modelling, texturing, working with sculpting and texturing software, making animations, working with different game engines, and so many other topics that are relevant to the industry.
Overall, I can conclude that I learned everything that I needed to. The program at triOS was the missing part to make my dream come true. I now have all the skills necessary for my journey toward my career.
Want to learn more about the exciting world of gaming? Gain a qualification and complete your internship with our Video Game Art program.
Visit our Video Game Development program page to learn about our other Gaming program to start a new career in this exciting field!